Conference prize for the best innovation with commercial potential in 2020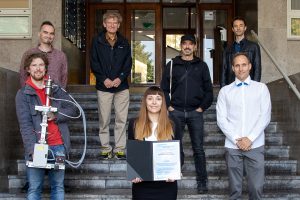 First winning team: Gregor Primc, Rok Zaplotnik, Miran Mozetič, Arijana Filipić, Ion Gutierrez-Aguirre, David Dobnik, Matevž Dular, Martin Petkovšek from Jožef Stefan Institute, National Institute of Biology, University of Ljubljana for A scalable method for eco-benign destruction of waterborne microorganisms
Foto: Marjan Verč, Institut "Jožef Stefan", 2020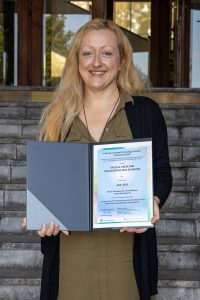 Second winning team: Marija Vukomanović, Srečo Škapin, Danilo Suvorov from Jožef Stefan Institute for Contact-based, leaching-free antimicrobial textile  »Silver-free, wearable germ protection«
Foto: Marjan Verč, Institut "Jožef Stefan", 2020
Video from award announcement, video from award ceremony (within the program of Awards of IS2020). 
ABOUT THE PRIZE
At the conference, a special prize for innovations from public research organizations in 2020 will be awarded. The emphasis of the competition is on presentation of business propositions of your (early stage technologies) in front of the evaluation commission, which is constituted of investors and technology commercialization experts. The commission members will evaluate the commercial potential of the presented technologies and will award the teams with the highest commercial potential of ther invention/innovation.
EVALUATION COMMISSION MEMBERS:
Andreja Satran, Managing Director, ABC Accelerator
Dr. Jeff Skinner, Executive Director, Institute of Innovation and Entrepreneurship, London Business School
Dr. Jon Wulff Petersen, Director, Technology Transfer, Plougmann Vingtoft
Robert Al, Head of Business development, TU/e Innovation lab, Eindhoven University of Technology (proxy member: Mark Cox, Knowledge Valorisation Officer, TU/e Innovation lab, Eindhoven University of Technology)
IMPORTANT NOTICE:
All information disclosed during the presentations of the submitted cases are considered as confidential. This part of the conference is considered a non-public event.
PRIZE FUND: 2.500 EUR
Public call (in Slovenian language)
Public call (in English language)
Application form A and C     Application form B 
Promo video (in Slovenian language)


This informal interest does not oblige me to do anything.
Competing teams:
Title
Organisation
Applicant
Second winning team (500 Euro award):
Contact-based, leaching-free antimicrobial textile »Silver-free, wearable germ protection«
Jožef Stefan Institute
Marija Vukomanović, Srečo Škapin, Danilo Suvorov
DiTeR: Dynamic thermal line rating software "A smart way to operate transmission network system"
Jožef Stefan Institute
Jure Slak, Gregor Kosec
Single step production of methacrylic acid from biomass-derived carboxylic acid using heterogeneous catalysts for plastic and coating industries
National Institute of Chemistry
Ashish Bohre
Enhanced cross-differential dynamic microscopy.
A DLS-like particle characterization technique for cost-effective and accurate analysis of complex systems
Jožef Stefan Institute; University of Ljubljana
Andrej Petelin, Natan Osterman, Natan Osterman
First winning team (2000 Euro award):
A scalable method for eco-benign destruction of waterborne microorganisms
Jožef Stefan Institute; National Institute of Biology; University of Ljubljana
Gregor Primc, Rok Zaplotnik, Miran Mozetič, Arijana Filipić, Ion Gutierrez-Aguirre, David Dobnik, Matevž Dular, Martin Petkovšek
A New Paradigm on Plastic Waste »PLASTICS – the problem or the solution«
Jožef Stefan Institute; National Institute of Chemistry
Andrej Trkov, Luka Snoj, Stane Merše, Blaž Likozar, Johannes T. van Elteren