CONFERENCE PRIZE FOR THE BEST INNOVATION WITH COMMERCIAL POTENTIAL IN 2022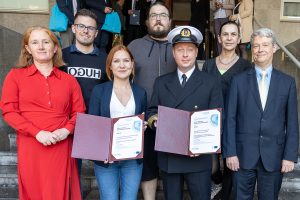 The winning teams:
Maja Grdadolnik, Blaž Zdovc, David Pahovnik and Ema Žagar, National Institute of Chemistry for From polyurethane waste to high value added raw materials (2.000 EUR)
Paweł Kołakowski and Grzegorz Rutkowski, Gdynia Maritime University (Poland) for Innovative equipment of intervention/service watercraft: Mobile Electromagnetic Mooring System and Batychron (500 EUR)
Foto: Marjan Verč, Jožef Stefan Institute, 2022
ABOUT THE PRIZE
At the conference, a special prize for innovations from public research organizations in 2022 will be awarded. The emphasis of the competition is on presentation of business propositions of your (early stage technologies) in front of the evaluation commission, which is constituted of investors and technology commercialization experts. The commission members will evaluate the commercial potential of the presented technologies and will award the teams with the highest commercial potential of ther invention/innovation.
EVALUATION COMMISSION MEMBERS (in alphabetical order):
Alexandre Massart, co-founder and director, Blend Ventures
Jurij Giacomelli, Investment Manager, META Ingenium
Michel Neu, International Technology Transfer Expert, CEA Alternative Energies and Atomic Energy Commission
Nina Urbanič, Adviser for equity investment monitoring and reporting, Slovene Enterprise Fund
Vladimir Jančič, CEO, Publikum Korpfin
IMPORTANT NOTICE:
All information disclosed during the presentations of the submitted cases are considered as confidential. This part of the conference is considered a non-public event.
PRIZE FUND: 2.500 EUR, deadline for submission: 31.8.2022, deadline for submission prolonged: 12. 9. 2022
Public call (in English language)
Public call with new deadline (in English language)     Specified changes of the public call
Application form A and C     Application form B
Promo video (in Slovenian language)

This informal interest does not oblige me to do anything.