CONFERENCE PRIZE FOR THE BEST INNOVATION WITH COMMERCIAL POTENTIAL IN 2021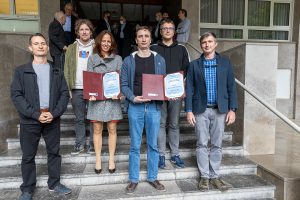 The winning teams:
Andrej Seljak, Rok Dolenec, Rok Pestotnik, Matija Milanič, Peter Križan and Samo Korpar, Jožef Stefan Institute for Real-time fluorescence lifetime acquisition system – RfLAS
Ita Junkar, Metka Benčina, Rok Zaplotnik and Matic Resnik, Jožef Stefan Institute for Novel surface finishing procedures for medical devices, especially vascular stents.
Foto: Marjan Verč, Jožef Stefan Institute, 2021
ABOUT THE PRIZE
At the conference, a special prize for innovations from public research organizations in 2021 will be awarded. The emphasis of the competition is on presentation of business propositions of your (early stage technologies) in front of the evaluation commission, which is constituted of investors and technology commercialization experts. The commission members will evaluate the commercial potential of the presented technologies and will award the teams with the highest commercial potential of ther invention/innovation.
EVALUATION COMMISSION MEMBERS:
Dr. Jon Wulff Petersen, Director, Technology Transfer, Plougmann Vingtoft
Matthias Keckl, Managing Partner, Fraunhofer Technologie-Transfer Fonds (FTTF) GmbH
Nina Urbanič, Slovene Enterprise Fund
Gregor Klemenčič, Deep Innovations B.V.
IMPORTANT NOTICE:
All information disclosed during the presentations of the submitted cases are considered as confidential. This part of the conference is considered a non-public event.
PRIZE FUND: 2.500 EUR, deadline for submission: 31.8.2021
Public call (in English language)
Application form A and C     Application form B
Promo video (in Slovenian language)


This informal interest does not oblige me to do anything.